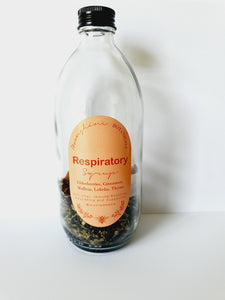 Ingredients: Elderberries, Cinnamon, Mullein, Lobelia and Thyme
This kit is all you need to make a potent Cough Syrup from. The only extra thing you will need is a cup of raw honey.
This cough syrup is immune building, an expectorant and mucous decongestant - truly a potent addition to your natural health kit. Safe for adults and children to take. It makes 500ml syrup
Included is a recipe, herbs needed for the syrup as well as a 500ml bottle for storage of your syrup.
This syrup will be potent, made in your own kitchen with no funny preservatives and safe for the whole family - it is also good value for money and requires no fancy equipment. 
Time to get your DIY on and start building immune systems and sorting out those seasonal coughs!
* to extend the shelf life of your product, keep it in the interior of the fridge and not in the door. It can also be frozen into ice cubes to use when needed. Unfortunately due to load shedding - shelf life cannot be guaranteed.