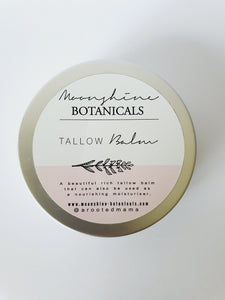 Made with pure grass fed beef tallow (hormone and antibiotic free) and organic olive oil. Great addition to your skincare routine and you can personalise it with your own essential oils.
-
Tallow balms contain vitamins A, D, E, K, and B12, which can all be beneficial to your skin health and appearance. Given tallow's organic compatibility with our skin, it works as a natural sebum, locking in moisture and nutrients without clogging your pores.
Grass-fed tallow really closely mimics the fats and oils we have naturally in our skin.  This includes the fatty acids and cholesterol in the cell membranes of all our skin cells …as well as those that sit in between skin cells, forming the protective barrier function of our skin.
Please note this tallow balm is unfragranced – it is pure goodness in a jar. Should you wish to add essential oils, pop the jar in some simmering water or in a low oven until completely melted – then add 30 drops of good quality essential oils and mix well and allow to cool and set.