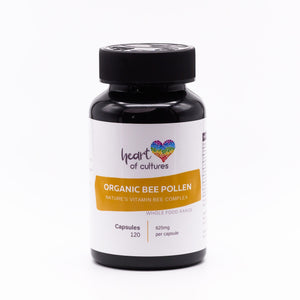 Organic bee pollen humanely harvested from small farms in rural Romania
180 capsules | 625mg each
Pure – contains no preservatives, fillers, or flow agents
Bee Pollen is today regarded as a leading superfood.
Officially recognised by the German Federal Council of Health as a medicine thanks to its properties, it contains almost all the nutrients the human body needs such as: phosphorus, magnesium, potassium, manganese, silicon, copper, iron, vitamins, zinc, sodium, calcium, enzymes, all essential amino acids and various antioxidant substances.
Our bee pollen is humanely harvested from small farms in rural Romania, covering a wide variety of floral fields.
Strengthens the immune system: Ideal in the winter and seasonal changes to prevent flu and convalescence in general due to lowering of the immune system
Is an anti-inflammatory: Being rich in vitamin C it inhibits the basic mechanisms at the origin of inflammation
Is a detoxifier: Particularly recommended during detox periods: thanks to vitamin B3 it cleanses the body from the effect of alcohol and drug consumption
Accelerates metabolism
Combats vitamin deficiencies
Increases energy: Thanks to the high concentration of vitamin C, B and manganese it acts immediately on our vitality, without however exciting the body (such as coffee). This is why it is an excellent aid for students and athletes.
Disclaimer: The information provided on this website is for educational purposes only. Our food supplements are not intended to diagnose, treat, cure or prevent any disease. Furthermore, we recommend that all medical conditions be diagnosed and treated by a qualified health professional. No medical claims are made.