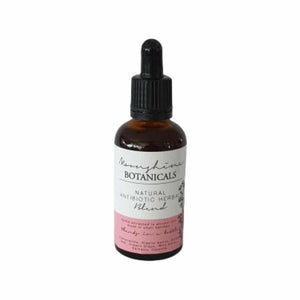 A natural antibiotic to use in times of illness.  Helps to naturally fight a bacterial infection.  Anti-viral, anti-bacterial, anti-inflammatory, anti-septic.
Herbs are sourced from a handful of small farms and they are grown, dried and tinctured with great love and intention. Our herbal range is a powerful tool to support your family through every season.
Sutherlandia, Nigella Sativa, Golden Seal, oregon grape, wild garlic, Barberry, Cayenne.  Extracted in alcohol.
Directions:  Shake well before use.  Adults use 30 drops in a little water twice a day.  Children 5 years and older use 15 drops in a little water twice a day.
Contra-indications: Not to be taken during pregnancy, Not to be taken by patients on Warfarin (anti-coagulants), Do not use for more than 6 days without abstaining for 1 day, Cease taking 5 days before surgery.
This information is provided for educational purposes only. All medical conditions must be diagnosed and treated by a qualified health professional. No medical claims are made.