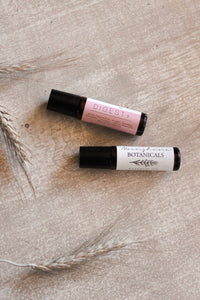 Essential oil roller blend diluted in fractionated coconut oil. Certified pure and therapeutic grade essential oils uniquely and purposefully blended to support the body.
Digest + blend is great for nausea, diarrhea, vomiting and bloating - it assists with digestion and is very gentle. This blend is also useful for respiratory illness and sinus issues to break down mucus and assist with drainage.

This blend is for adults and children over 12. For digestive complaints roll over the stomach when discomfort strikes. To break down mucus, roll carefully over sinuses, avoiding the eye area and over the chest and back to break down mucus in the lungs and airways. For external use only.
Ingredients: Anise,Peppermint, Ginger, Caraway, Coriander, Tarragon and Fennel Essential Oils in a base of Fractionated Coconut Oil.
This blend is not suitable for breastfeeding women as peppermint oil is known to reduce breastmilk supply.
*If symptoms persist, consult a medical practitioner. This medicine has not been evaluated by the Medicine Control Council and is not intended to diagnose, treat, cure or prevent any disease.